Course Overview
We all love those leaders who can touch hearts and emotions inspiring us to believe and contribute to the success of a higher vision which could shape our legacy or make us feel fulfilled.
Purposeful and inspirational leadership style is indeed very useful when combined with storytelling, but it is at the same time manipulative and unfair, as the leader may misuse our emotions and feelings.
Leadership is much more than telling stories. True leaders have to know how to balance the dosage of leadership competencies during the leadership dance.
The Creative Leadership module is designed to prepare experienced leaders to take on new challenges. Together with your Coach, you will navigate from reactive Leadership style to the creative Leadership style. The module is designed for individuals who already led large organisations and teams in a multi-cultural environment. It will
help you to know and expand your creative leadership strengths,

encourage you to consciously balance your reactive competencies,

help you to define and implement your leadership practices within your organization (change),

Enables you to understand how to harness your unique influence,

Elevate your impact on individuals, on teams, and in organizations,

provide you with the foundation of transformational leadership.
Description
The creative Leadership manual covers the following topics:
Creative Thinking Skills
Creative Leadership Competencies:

Purposeful and Visionary,
Strategic Focus, System-Awareness,
Mentoring & Developing

Coaching as a creative leader
Immunity to Change
Individual 360o Assessments and debriefings & Peer Coaching Sessions
Group workshops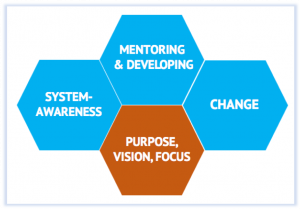 Prerequisites
This course requires that candidates meet the following requirements:
Certified Authentic Leadership

Minimum of bachelor's degree in any discipline

Proficiency in the English language

Minimum of 10 years of leadership experience

Well prepared with the assigned readings and pre-work (essential theories and case studies).
Audience
This course is intended for senior leaders such as:
Managing directors and heads of business units (public or private sector), heads of corporate functions, divisional heads, Country Managers, head of marketing, head of sales, head of logistics, head of engineering, head of HR, head of leadership development, professional Coaches, medical experts with leadership responsibilities.
Duration: